Express Entry is a competitive immigration system, ranking all eligible candidates in the pool and then inviting the best ranking candidates to apply for Canadian permanent resident status through a draw. Candidates are ranked against one another based on their Age, Education, Language Proficiency, Work Experience, and other selection factors.
Under Express Entry, applicants will need to be eligible under one of the following 3 main economic immigration programs as well as a select number of Provincial Nominee Programs:
Federal Skilled Worker Class
Federal Skilled Trades Class
Canadian Experience Class
Provincial Nominee Programs Express Entry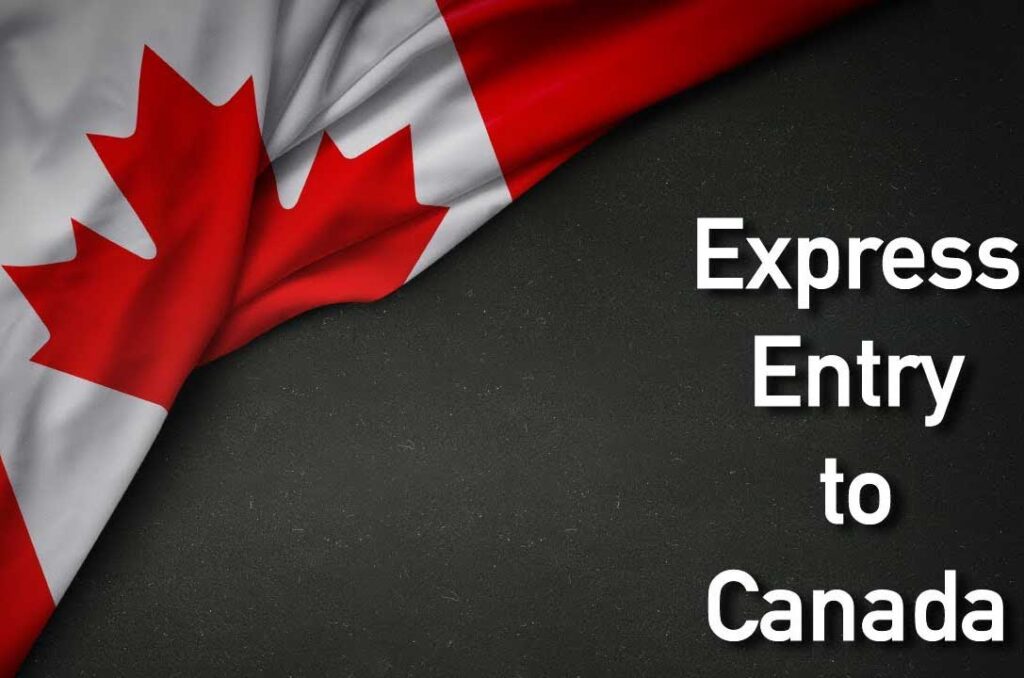 In order to enter the pool, candidates must qualify under one of the 3 federal economic programs. If you do not meet the minimum criteria for one of them, you may not qualify for the Provincial Express Entry programs either.
Although each program under express entry has different selection factors, there are two common eligibility factors that are:
Every candidate must have at least 1 years of work experience, and
Every candidate must have sufficient language skills
Before you start your application process there are few things you need to obtain in advance:
1.

Language Proficiency Test
All Express Entry candidates must show their language proficiency in either English and/or French. Canada has approved the following language exams:
IELTS General
CELPIP General
TEF (Test d'Évaluation de Français pour le Canada)
TCF Canada (Test de Connaissance du Français)
In order to be qualified under any of the Express Entry Programs, the candidates must take a language test and obtain the minimum score as per the program eligibility. The minimum required score varies between the three Express Entry-aligned programs.
2.

Employment Reference Letters
For Express Entry applications, you will have to submit an employment reference letter to prove that you have the required work experience as well as to prove that you have completed the main duties of the occupation as per your NOC Code. You will not need to submit your reference letter at the profile creation stage, though obtaining reference letters may be a lengthy process and it is advised that you initiate the process ahead of time.
At Globus, we assist you by providing you with employment reference letter templates tailored to the required information as per your NOC Code so you may have a smoother process while obtaining them and they meet the criteria of immigration.
3.

Education Credential Assessment (ECA)
All candidates who have completed their education outside Canada are required to get their educational credential assessed. All candidates must get their ECA report from one of the following designated institutions:
Comparative Education Service – University of Toronto School of Continuing
Studies (CES).
International Credential Assessment Service of Canada(ICAS).
World Education Services (WES).
International Qualifications Assessment Service (IQAS).
International Credential Evaluation Service (ICES)
At Globus, we assist you in obtaining the evaluation report by directing you to the
one that is most appropriate as per your qualifications.
Proof of Funds is another essential part of your Express Entry application. Depending on whether you have a job offer or not you may need to show the amount of money that is determined by the Government of Canada to support yourself and your family depending on the size of your family. The amount is subject to change by the government and you must meet the current requirements at time of application.
Federal Skilled
Worker Program
Federal Skilled Worker Program is designed for candidates who have the relevant work experience, education and language proficiency skills.
Eligibility Requirements:
Must have proof of language proficiency results of minimum CLB 7 in all 4 skills.
Must have a Canadian secondary or post-secondary degree, or a foreign degree and an Education Credential Assessment (ECA).
Must have 1 continuous year of full-time paid work experience in the same job within the last 10 years in a NOC 0, A or B occupation.
Must have a minimum of 67 points out of 100 on the six selection factors under FSWP.
Must show proof of funds if applicable.
Federal Skilled
Trades Program
Federal Skilled Trades Program is for candidates who have the relevant qualification in a skilled trade. Certain skilled trades require to have the proper certification from the province to work in Canada. At Globus, we assist you by directing you to the appropriate institution or organization to obtain your certification of qualification.
Eligibility Requirements:
Meet the required language proficiency level of CLB 5 in speaking and listening and CLB 4 in reading and writing.
Have 2 years of full time (or equivalent) work experience in a skilled trade within the 5 years.
Meet the job requirements for the skilled trade under the NOC Code unless you have a provincial or territorial certificate.
Have a job offer or a certificate of qualification issued by the province or territorial authority.
Skilled Work Experience
In order to be eligible under this program your occupation must be under certain NOC Codes:
Major Group 72: Industrial, Electrical and Construction Trades.
Major Group 73: Maintenance and Equipment Operation Trades
Major Group 82: Supervisors and Technical jobs in Natural Resources, Agriculture and related production
Major Group 92: Processing, Manufacturing and Utilities Supervisors and Central Control Operators
Minor Group 632: Chefs and Cooks
Minor Group 633: Butchers and Bakers
Canadian
Experience Class
Canadian Experience Class offers candidates who have gained Canadian work experience a chance to obtain PR through this program. To be eligible under this program there are certain requirements that must be met.
Eligibility Requirements:
Must have a minimum of 1 year of full-time or equivalent paid work experience in NOC 0,A or B in the last 3 years before applying.
Must have gained the experience in Canada with a proper authorization (PGWP or work permit)
Must have the appropriate language proficiency results. For NOC 0,A the candidate must have CLB level 7 and for NOC B the candidate must have CLB level 5.
For this program there is no need to show proof of funds.
Provincial Nominee Programs
under Express Entry
Under Express Entry, certain provinces and territories have Express Entry categories that are aligned with the Express Entry eligibility criterias. Most of the time to qualify under the Provincial Nominee Programs that are aligned with Express Entry, the candidate must meet and be eligible for one of the Express Entry Programs. There are multiple ways to apply through Express Entry for PNP's. You can either create a profile under EE and wait to be selected by the Province or directly apply to the PNP through their EE streams. Either way the candidate must receive nomination from the province in order to be awarded the 600 points. Receiving a nomination or the 600 points is not a guarantee that the candidate will receive a permanent residency status. The process of applying for PNP's can be very complex and a small mistake may lead to refusal of your application. PNP applications have multiple stages and therefore the application process should be handled delicately as each application stream has different requirements and they must be submitted to the appropriate channel.
Eligibility Requirements:
Meet the requirements of the stream that is being applied to
Meet minimum requirements of Federal Skilled Worker Program, Canadian Experience Class or Federal Skilled Trades Program
At Globus, We're Here To Help You!
Contact Us For Free Assessment